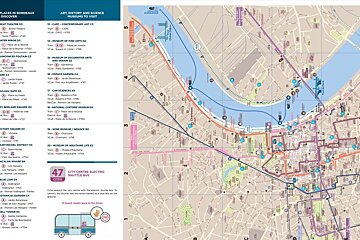 Bus services in Bordeaux
Discover and book Bordeaux bus services
You're arrived in Bordeaux after flying, driving, catching the train or transfer bus, but how do you find your way around whilst you're here?
Run by Tram et Bus de la Cub (or tbc for short), Bordeaux has a comprehensive bus network enabling you to get within a short distance of pretty much anywhere in the city. Books of tickets or travelcards are valid on the buses and trams.
Along with the bus service Bordeaux has an excellent three-line tram system (Lines A, B and C) which run east to west and north to south linking the city to the suburbs. It is run by Tram et Bus de la Cub (or tbc for short) so you can buy a book of tickets which can be used on both.
Tourist services
There is a regular shuttle bus that runs from Bordeaux–Mérignac Airport into the centre of Bordeaux. The 30'Direct service takes just 30 minutes to travel between the airport and the main train station (Gare Saint-jean).
Timetables
You can find all the timetables and travel details for the Bordeaux buses on the tbc website. The information is available in both French and in English as well Spanish. in addition there is a handy app that you can download to help you on the move.