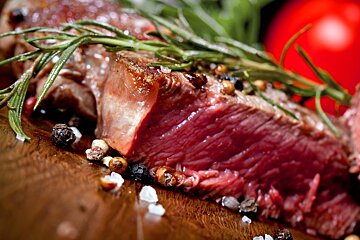 Local cuisine in Bordeaux
Discover the top Bordeaux local cuisine
With the Atlantic ocean coastline, fish and shellfish are popular, but Bordeaux is carnivore country and its most celebrated dish is entrecôte marchand de vin, also called entrecote a la bordelaise; rib steak cooked in a rich gravy made from Bordeaux wine, butter, shallots, herbs and bone marrow.
Canelé - Small domed cakes made from batter & caramelised
Canelés are tiny round cakes soaked in rum which used to be made by the nuns of the convent of Annonciades in Bordeaux. They have a soft custard centre and a crispy sweet finish.
They are usually eaten for breakfast, dessert or as a snack. The name is derived from the fluted copper mould in which it is made. Often coming hand in hand with the famous French macaroon which hail from Saint Emilion, canelés are said to originate from the wine industry... Legend has it that the recipe was created because of the left-over egg yokes from wine production, this was during a time when the whites of the eggs were used to filter the wine naturally.
Popular all across France , you should be able to find canelés in most bakeries, patisseries and supermarkets, but nothing beats the real thing and for this you have to be in the city of Bordeaux.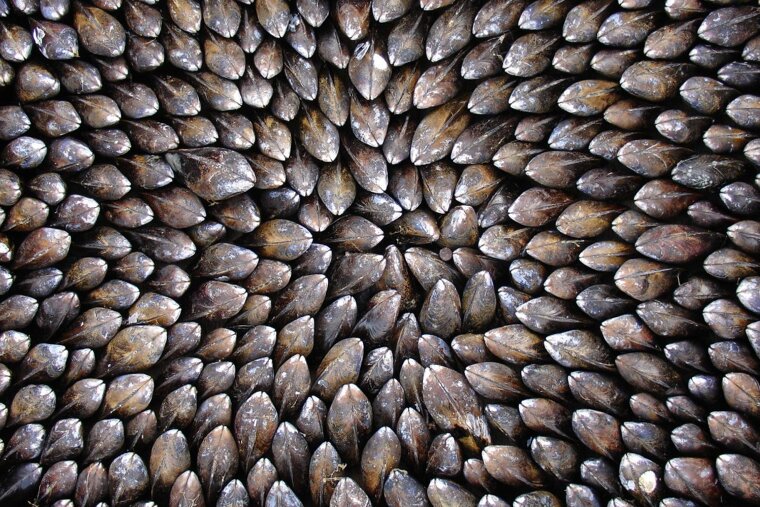 Eclade -The best way to eat mussels...cooked on the beach!
The coastline of Bordeaux and the Gironde region is teeming with great seafood, caught fresh each day, sold in the market or eaten straight away at one of the many wonderful seaside restaurants.
Eclade is a special barbecue of mussels cooked on the beach. Cooked by placing mussels on water-soaked board and heaped with pine needles or hay then set on fire. When the fire is doused tasty hot mussels are ready for eating.
The mussels (or moules in French) are placed on a wooden board vertically, so tip up. They are squeezed in tight so that they don't open during cooking. The cooking process can take around 10 minutes. Then they are traditionally eaten with bread, salted butter and some delicious white wine.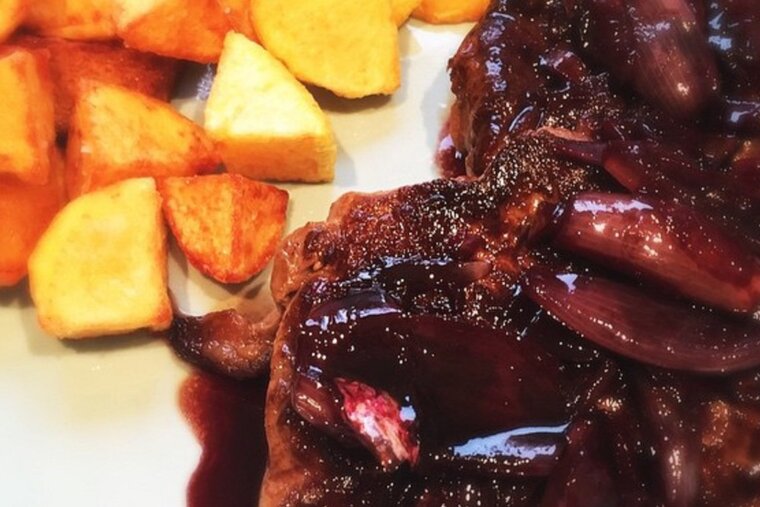 Entrecote Bordelaise - The most famous local dish; steak with shallots & red wine sauce
A traditional entrecôte comes from the rib area of the carcass. The steak is seared with a flavourful sauce of red wine and shallots, perfect for pairing with a Bordeaux-style wine.
This particular style of preparing beef and lamb, is so common in the Bordeaux region that it is simply referred to as à la bordelaise. A simple dish that results in a rich, butter, and rather fat, sauce that complements the cut of beef.
In the city of Bordeaux itself you will find restaurants that not only specialise in this meal, but that actually dedicate their menu to it. One thing is for sure, if you are a meat lover then you cannot leave the region without at least a taste!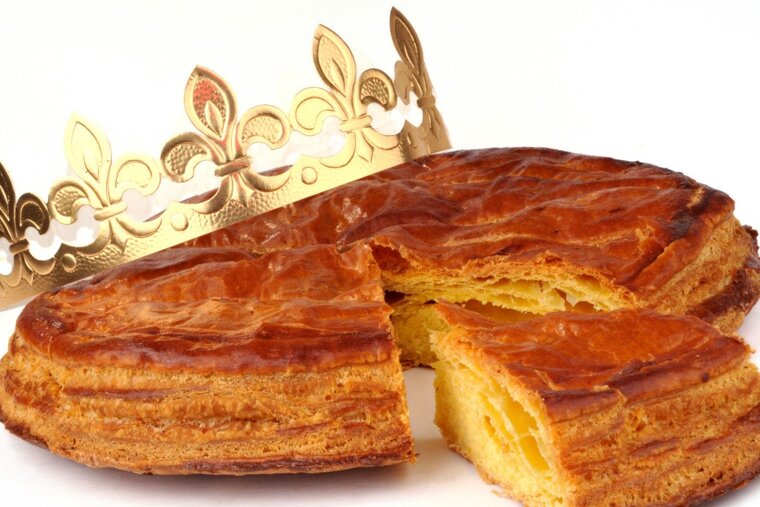 Gateau des Rois - The Cake of Kings!
January - a time for cake and celebrations... If you pass your local Bordeaux bakery in early January you will no doubt find a selection of glazed pastry cakes with golden paper crowns sitting on top of them... or even a selection of small charms to purchase at the counter.
This wonderful tradition dates back to the fourteenth century and is likely in some ways to be related to the Roman tradition dedicated to the god Saturn and celebrating the longer days after the winter solstice.
Across France during the 'Epiphany', the celebration of the Magi (or Kings) visiting the new baby Jesus, which takes place on the 6th of January, cakes are eaten which are known as 'Gâteau des Rois' or Cake of Kings. Traditionally the cakes are made from a brioche and covered with candied fruit and sugar although this is not always the case. They do however all contain a bean or a charm of some kind and whoever eats the piece with the bean or charm will be crowned the next king! This is not always a privilege as it can mean that you have to buy the next cake!!
Whatever your thoughts and traditions, each region and family will no doubt have their own take on the celebrations. But with one thing in common, this is a time to celebrate with friends and family and eat some cake! I won't be complaining about that! I will be sampling as many as I can find in the hopes that I can receive a charm and my crown :-)
More inspiration...
Surely there can only be one place to head for more inspiration after reading this page.... check out our local Restaurants suggestions!