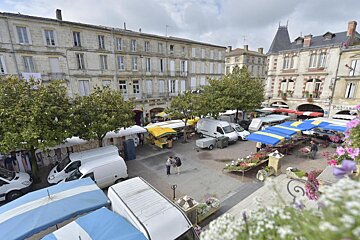 Sainte-Foy-la-Grande Market
One of the regions biggest and best farmers markets
Apples freshly plucked from the orchard, potatoes unearthed that morning, jams potted the night before, this is truly a wonderful local market that attracts not only the best local producers but the most excited buyers for miles around.
Around an hour from the city of Bordeaux this market is worth the trip out of the city to experience a very rural, medieval market atmosphere that will capture your imagination and take you back in time.
The whole town centre is off-limits to cars and other vehicles and the market sprawls out through the streets with stalls of fruit, vegetables, jams, wine, flowers, bread, cheese, arts and crafts.
Voted in 2014 as "Favourite French Market" and in 2021 as the "most beautiful market in Gironde".
Open from 08:00 to 13:00 April to September and 08:30 to 12:30 October to March, every Saturday morning.
Location