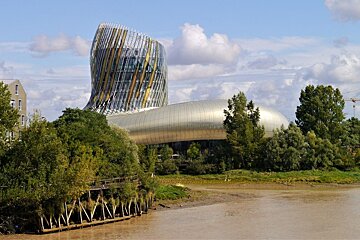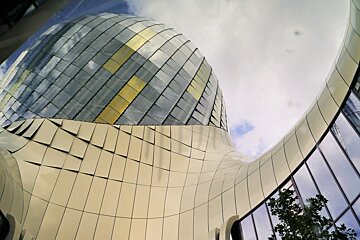 Cite du Vin Museum (The Wine City), Bordeaux - Centre
Celebrating all things wine, in and around the city of Bordeaux
The Cité du Vin whose doors opened on 1st June 2016, is an iconic architectural feature situated on the river. it offers a sensory and artistic journey allowing visitors to become familiar with the civilizations of the world of wine.
Learn about wine companies, wine mythological and sacred wine inspired arts and the wine link between peoples. There is a permanent exhibition as well as temporary exhibitions throughout the year, cultural programming in the auditorium, workshop and shop.
The centre also hosts a panoramic restaurant, gourmet snacks, wine bar and wine cellar.
The City of Wine is also a unique place for business meetings and events. Time for a conference, a meeting, a workshop or a cocktail, the privatized spaces are modulated.
Worth knowing
It was apparently designed to resemble wine swirling around a glass and the top of the building provides a stunning 360-degree view of Bordeaux.
Visitor comments
"Everything you wanted to know about wine and more under one roof. It is very hi-tech, which allows you to move around the exhibits at your own pace. I enjoyed the history tableaux, the smelling jars and the rolling films, which allowed the tired tourist to sit and relax." - Trip Advisor
"We visited a few days after opening. Spent 3 hours in the museum, enjoyed every minute!! Amazing architectural structure and a crash coarse in world wines. We will return again and highly recommend to others." - Trip Advisor
"Absolutely amazing experience loved every minute. Very informative. I knew very little about wine beforehand but now know so much more. The only problem I had with it is the amount of wine you get at the end." - Trip Advisor
Directions
The Cité du Vin is on the left bank of the Garonne river at 134 quai de Bacalan, near the bridge of Chaban-Delmas.
The Bordeaux tram stop formerly known as "Bassins à flot", at the Quai de Bacalan on Line B has just been renamed "La Cité du Vin" in honour of the new museum.
When to come
Open daily from 09:30 to 19:30.
How to get passes
Tickets cost 20€ and include tasting of a world wine in the Belvedere, audioguide and the exhibition,
Child policy
Children are welcome here. Although they can't try the wine, there will be specific workshops about taste, flavours, wine making techniques, landscapes and heritage.
Location