About Airports for Bordeaux
Find out more about local airports for Bordeaux
About
When deciding which airport to fly to for Bordeaux, in this instance we have only one main recommendation: Bordeaux airport.
France's fifth largest airport outside Paris in terms of traffic volume. Bordeaux is the largest airport in the region and one of the busiest airports in France, located just 12 kilometres from the centre of Bordeaux, makes access to the city and region easy.
Bordeaux-Mérignac Airport
Operating flights to both internal and international destinations. Bus shuttles take 45 minutes to the main train station in Bordeaux and there is an urban bus service connecting with the tram system. There is a taxi rank and many car rental offices at the airport
General Info:
Airport Code: BOD
Distance from Bordeaux city centre: 12km west of Bordeaux
Number of terminals: 3
Accepted Currency: Euros (€) are accepted in shops, restaurants and car parks. If another currency is accepted then change will be given in Euro's.
Travel & Transport:
Parking: There are numerous parking facilities at Bordeaux Airport, including reserved parking, long duration, regular daily rates and 'Depose minute' (drop off).
Car Hire: Further details of car hire companies can be found in our Car Hire Page.
Travelling into Bordeaux: The most common methods of getting from the Airport to the city are by bus or hire car.
Airlines: A range of international airlines such as easyJet, British Airways, Ryanair, Turkish Airlines and Air France fly in and out of Bordeaux daily. Find a flight here.
Services & Facilities:
Restaurants, Bars & Takeaways: There are several cafes & restaurants including a Starbucks outlet. Food & drink facilities are available in each Hall.
Shops: The airport shops are split between Arrivals and Departures. They include the usual range of duty free and gift shops as well as perfumes, confection and speciality shops. Generally speaking they are open between 07:00 and 20:30 365 days a year.
Internet Access: Bordeaux Airport offers WIFI services to allow all travelling internet users, whatever their service provider, to make use of the wireless network and mobility. This service is available free of charge, in all the boarding zones and in restaurants and bars in the public areas and in the departures area.
Smokers: Smoking is prohibited inside all airport buildings.
Luggage / Animals
Lost Luggage: If you have arrived at your destination but your luggage has not fared quite so well, you should contact your airline directly.
Safe Bag: Safe Bag desks can be found in Terminal A next to the check-in desks opposite Entrance 4, and in Terminal B facing Entrance 10, in front of the Air France check-in desks. Baggage security service at the airport that gives you 3 services in 1:
- Protect your luggage from damage, rain, theft and accidental opening using a 100% recyclable ultra-resistant plastic film.
- Tracks your luggage with the Safe Bag Code associated to your suitcase and helps you to quickly locate your luggage even before the airline company.
- Refunds up to 3000€ in case of total loss and up to 800€ in case of damage or partial theft.
Cost is €10 per item. Safe Bag is opened 7 days 7 from 05:00 to 20:00 and is located on the ground floor of hall 1 (international flights)
Animals: Check with your airline before you book. Sometimes animals weighing less than 5kg and carried in a bag can be brought into the cabin, providing you have prior authorisation from the airline. Any animals weighing over 5kg must transported in the hold, in a secure cage that can be bought from the airline. This must be arranged in advance of the flight and will be charged at the same rate as excess baggage. Any questions regarding vaccinations and quarantine should be directed to the Official Borders Website.
---
Bergerac Dordogne Périgord Airport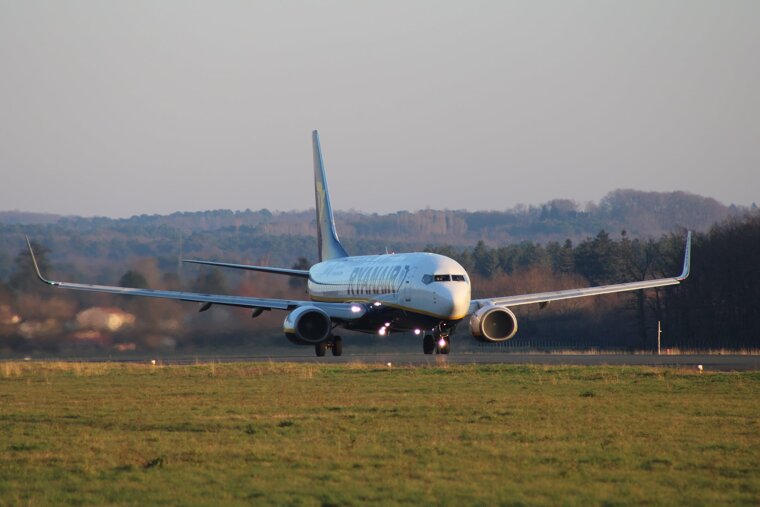 International airport situated just to the south of Bergerac, meeting the demands of mainly UK tourists, Bergerac's airport flies regular low-cost flights to a number of destinations in England and Scotland, as well as to Paris, Brussels and Rotterdam.
Both taxis and hire cars can be picked up at the airport which is just 5 kilometres from Bergerac. There are currently no buses servicing the airport.
---
Brive Airport
New & modern airport servicing the Dordogne Valley, the newly-opened Brive airport offers a small number of budget flights from within France and the UK.
With its location in the heart of one of the most beautiful tourist destinations in France and at the crossroads of major sites of Corrèze, Lot and Perigord, which have as a common denominator Dordogne River, Brive Dordogne Valley Airport invites its visitor to discover its unique region.
Airport hours: 6 am - 10 pm
Airport reception desk hours:
Monday to Friday: 9 am – 6:30 pm
Saturday: 9:30 am – 6 pm
Sunday: 15 pm – 18:30 pm
Inside the airport you will find a nursery area, free wifi, a snack bar, two departure lounges and an arrival hall.
There are both car hire and taxi services at the airport.
From the A20 motorway, exit at Junction 53 and follow the directions for Aéroport Brive Vallée de la Dordogne.
---