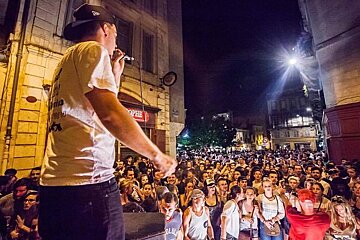 Fete de la Musique in Bordeaux
Bordeaux turns into a huge open-air music venue on 21st June
Every year on June 21st, Bordeaux will host the musical party of the year in France, the Fete de la Musique. This country-wide event, promoted by the government since 1982, celebrates the summer solstice by turning the whole nation into a huge open-air music venue.
The city of Bordeaux will host lots of live music concerts while most of its squares and open-air spaces turn into music venues for a day.
With more than a hundred music events taking place in the Bordeaux city area alone, almost every music genre under the sun will be represented in this year's Fete de la Musique. Some of the hotspots will be the Place du Palais with a small festival dedicated to rock and psychedelia, the Place Saint-Projet which will be turned into a jungle filled with strange creatures, the Place Fernand Lafargue that will host the Bordeaux Rock Festival, or the Cour Mably which will have several concerts and activities from 16:00. Those keen to jump on stage should head to Rue Joseph Brunet where there will be an open mic.
Hundreds of thousands of people will fill the streets of Bordeaux tomorrow. There will be a car-free area in the centre of the city from 20:00 to 03:00. To make transport easier, trams will travel throughout the night and the evening pass will allow unlimited trips from 19:00 to 07:00.
These are only the official events but the Fete de la Musique will be a city-wide celebration of music. Just wander around the streets of Bordeaux and you'll find that most of the bars and restaurants in town have organised their own little live music event.